We offer free Countertop Estimates:
Do you know your square footage already?
Call 843-438-4615. We will then take this number to estimate cost based on your estimated square footage and material that you would like to use.
Here is how it works.
Take a couple Photos of the area that you need countertops. Kitchen, bathrooms or any other area you are looking to surface. This will also help with color selection as we can see your cabinet colors and wall colors and that can help us guide you to appropriate materials.
Measurements.
Grab a tape measure, a piece of paper and let's take a couple measurements.
Most wall mounted cabinets are 24″ deep from the wall. Over hangs will very depending on type of cabinets that you have. inlay cabinets or flush faced cabinets will have a 1 inch overhang (25″). Cabinets that the doors close against the face will have 1.5- 2 inch over hang (26″). So pick one of these values.
Below is an example layout that you can draw on a piece of paper. Take a photo with a smart phone and send to us. In this example we have a windowsill threshold, a sink and dishwasher general locations as well as an island.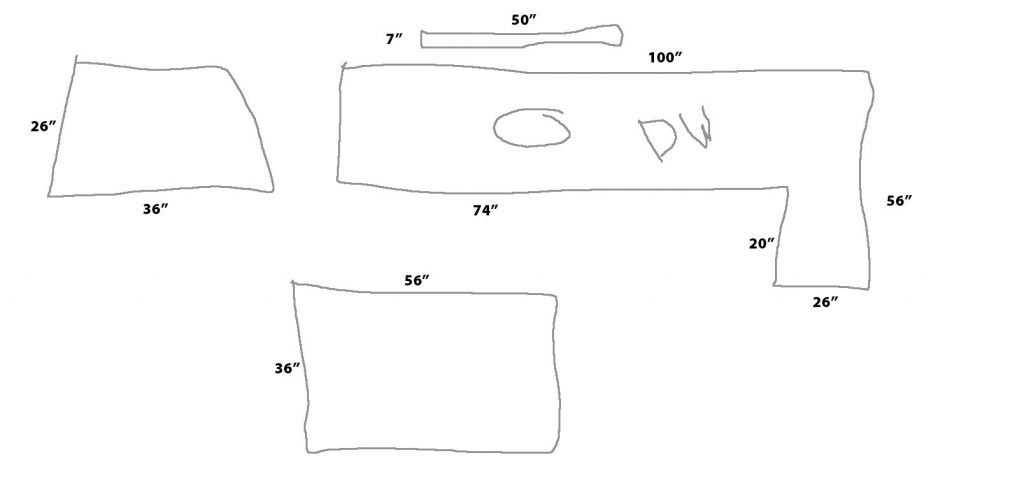 With these basic measurements our team can produce a ballpark estimate of the material required to do the project. We will ask a few additional questions concerning location, type of property, as well as some additional questions so that we can be as accurate as possible.
Your estimate will be subject to change until material signoff and onsite template. This is because the actual square footage to complete the project to your specifications at template can affect the amount of material required.
Material Selection
If you know the material you want then that is great news! Let us know when you call so we can include that in the estimate. Otherwise we will need to try to move you into material based on budgeting factors. We will have onsite materials as well as many local distributors that you can visit to select material.
Lets get your project started
---
Some variables that will affect the price of material and labor:
Material type: Some granites and solid surface materials tend to be entry level as far as costs. Granite, Quartz and some marbles are mid level costs and higher cost materials granites, brands of quartz, marbles and quartzites can be very expensive. The price is usually a reflection of beauty, demand, product supply and complexity to source if natural material.

Fabrication: Complexity of stone design will add costs. Waterfall islands are all the rage recently. This beautiful stone treatment and design element is beautiful but understand this adds significant labor and planning of material and documentation. Intricate edge details add labor and complexity so if you desire these complex edge treatments understand that this too will ad cost to the completed project.

Installation: If your on the 3rd floor of a building with no elevator this will affect the layout of the countertops and the manpower required to move the material into your home or office. These details are discussed at template